Gameboy Programming
If you've looked around the rest of the site, maybe you've decided PC games aren't really your thing -maybe you always thought it would be cool to make a video game on an actual game console.
Well, there's certainly lots of resources out there for programming on any platform.
I dedicated this page to gameboy specifically just so I could show off the couple crappy game I started to make for game. But, there's tech docs, compilers, and such for almost any system you could imagine - SNES, GB, GBA, Sega Genesis, PlayStation, N64, Dreamcast, to name some more prominent systems.

Some screens of me screwing around with gameboy programming: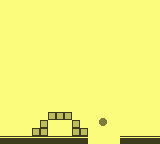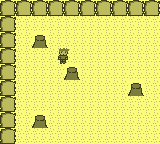 Downloads:
"Platform Game" (seen in the first screenshot) in rom format
"Platform game" Source code - Written in C for the GBDK [Gameboy Development Kit]
Links:
I'm a beginner when it comes to gameboy programming, so I don't have the knowledge to write any sort of tutorial on gameboy programming.
However, there are other sites out there which will probably help you greatly: These are ones that personally helped me:
Devrs.com - The most complete archive of gameboy information and tools - And, unlike most GBdev sites, it's still updated regularly.
A Tour of C Programming - Before learning C programming on the GB, it's a good idea to learn C itself. This deatiled tutorial is nicely written so that it's easy to understand and follow.
Gameboy Programming for Beginners - This is absolutely the best site to start at if you're a total beginner. I started out with this site, anyway. It has all the tools you'll need and instructions on setting them up. Also, information on the programming itself to set you in the right direction.
Grooves Gameboy Page - I found the tutorials here very helpful because they were simple and only dealt with the very basics of gamboy programming.
Gbdev Webring - Links to mostly all the GBdev sites on the internet [sadly there's probably less than 100]
Back to Main Page

Visitors since March 23, 2002